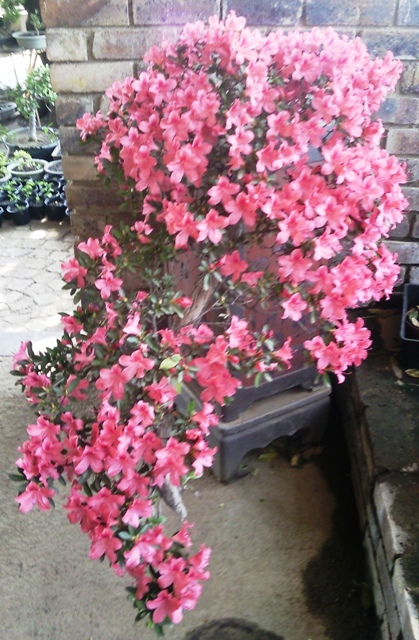 Azalea in full flower
1m tall
P
Mikibu is a Wholesale Bonsai Nursery, with a retail outlet, based in Midrand, Gauteng, South Africa. We import internationally, supplying to bonsai clubs and growers, chain stores, corporates, nurseries, conference organisers, promotional gift companies and individuals. Orders from 1 to 500 can be accommodated. We import, grow, wholesale and retail bonsai, containers, tools and accessories.
We open Tues - Fri 9am - 5pm. (It is advisable to check first, as I may be out.)
Saturday 9am - 1pm.
Closed Public Holidays.

Map to Retail Premises.
Home to Midway Bonsai Society, who meet every 3rd Saturday of the month.
TIPS
October. This month makes bonsai rewarding and addictive. Growth is fast. Watch out for wire damage by grouping or marking trees that have been wired. Trim continuously, which will reduce leaf size and not allow the internodal space to grow too long. By not trimming your leaves the tree will become out of proportion and your foliage will grow on the ends of your branches. Look before you cut as you may be cutting off blossoms and fruit, which may be desirable. Flowering and fruiting trees can be encouraged with higher Potassium (K) fertilisers. Leaf growth can be encouraged by higher Nitrogen (N). Continue to repot as required.
BONSAI EVENTS
2013
* 24-27 October 2013 SABA Convention - EBS
* 30 November: BRAT Open Day
* 2015 African Bonsai Association Convention Cape Town

Member of Midway Bonsai Society
Member of South African Bonsai Association )SABA) Member of African Bonsai Association (ABA) associated to World Bonsai Friendship Federation (WBFF)